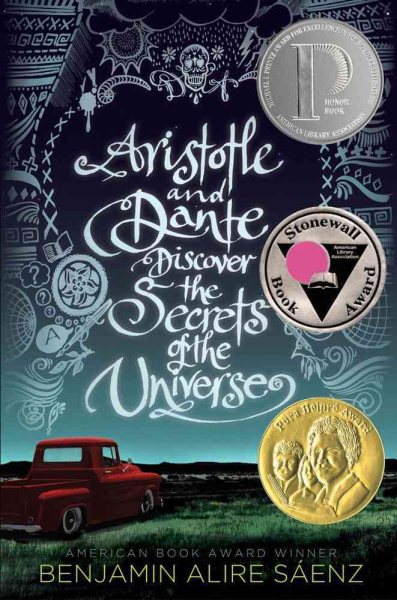 Aristotle and Dante are two Mexican-American boys who live in El Plano, Texas. They are quite opposite, one incredibly articulate and the other very insecure. However, the both of them find each other in times of need when Dante moves to El Plano and is in search of a new friend. Little did they know that their friendship would grow into something that would change their lives forever. From daily challenges to family life, they help each other discover who they were meant to be.
It's so difficult to write a synopsis for this book without exposing much of the story. Aristotle and Dante Discover the Secrets of theUniverse, by
Benjamin Alire Saenz,
is such a complex book even though it may not seem like it. The way it's written is so poetically beautiful that every chapter that I finished, I had to take a minute to relax and reflect. Saenz has done a great job in making a story that first seemed cliche into something so much more than I expected. I fell in love with the characters in this novel, because Aristotle and Dante have such amazing families. They aren't typically normal families, but they are such incredible people. Furthermore, the story takes place in 1987, and I think that adds a different "feel" than other young adult books nowadays. In conclusion, I totally fell in love with this book and it is for sure one of my favorites now. It explores themes of family, sexuality, and artistic expression, which make this book so important.